Tampa Sandblasting Pros has been providing quality concrete blasting services for over 20 years. They are the go-to resource for people who need a quick and efficient cleaning solution for their property. But, did you know that Tampa Sandblasting Pros can save clients up to 75% on labor costs compared to traditional methods? This makes them an attractive option when it comes to restoring, resurfacing, or repainting concrete surfaces.
Whether someone needs to clean a driveway or a parking lot, Tampa Sandblasting will get the job done quickly and reliably. Their team of experts uses the latest equipment and techniques to ensure the highest levels of safety and satisfaction. From small projects like walkways or patios to larger ones like industrial warehouses or manufacturing facilities, Tampa Sandblasting Pros have seen it all!
The benefits of hiring Tampa Sandblasting Pros go beyond cost savings. With their help, clients can enjoy long-lasting results with minimal downtime and disruption to their everyday lives. Plus, they guarantee that all jobs are completed according to industry standards and local regulations. So if you're looking for an experienced team you can trust, look no further than Tampa Sandblasting Pros!
FREE INSTANT QUOTE!
Get a FAST Response
What Is Concrete Blasting?
Concrete blasting is like a deep cleanse for your concrete surfaces – it strips away the dirt and grime, leaving the surface looking fresh and new. It's the perfect solution for those seeking to restore their concrete surfaces in Tampa. The Tampa Sandblasting Pros know that when it comes to concrete blasting, no job is too big or too small.
Concrete blasting in Tampa has many benefits – it can remove paint, rust, and other surface contaminants, as well as etch existing surfaces for better adhesion of coatings. It can also help to restore the original appearance of old concrete surfaces that have been weathered by time and the elements. Plus, with Tampa Sandblasting Pros on your side, you can be sure that your concrete blasting project will be done safely and efficiently.
Benefits Of Sandblasting Concrete
Have you ever considered the advantages of sandblasting concrete? Sandblasting concrete is a process that offers many different benefits. It can be used to remove dirt, paint, and other materials from concrete surfaces, making it easier to clean and maintain the surface. Additionally, it can be used to give a roughened texture to the concrete surface which makes it less prone to slipping.
Sandblasting can also be used to restore a damaged or worn-out concrete surface. The abrasive material removes layers of material that are not necessary, helping to create a smooth finish on the surface. This process also helps remove any existing sealant without damaging the actual structure of the concrete itself. In addition, it creates an even and uniform look that will last for years with proper maintenance.
The use of sandblasting on concrete is beneficial in many ways, not only aesthetically but also functionally. Not only does the process help keep your concrete looking good, but it can also extend its lifespan and help protect against damage due to wear and tear over time. With all these advantages, it's no wonder why so many people choose sandblasting as their preferred method for cleaning and maintaining their concrete surfaces. Moving forward we'll explore how sandblasting works on concrete.
How Sandblasting Works On Concrete
From the surface of a sidewalk to the foundations of a building, concrete is a common material in many structures. With sandblasting, it can be transformed and improved in an effective yet gentle way. An allusion could be made to an artist's brushstrokes, as this process can help to clean and refine any structure with concrete surfaces.
Sandblasting works on concrete by propelling small particles of sand at high speeds against the surface area of the concrete. This action removes dirt, stains, and other discolorations while smoothing out irregularities on the surface. On top of that, it can also remove rust and paint from metal fixtures that are connected to or embedded in the concrete. Sandblasting is even effective for removing graffiti from outdoor walls without damaging or discoloring the surrounding areas.
By understanding how sandblasting works on concrete surfaces, it's easy to see why it has been a popular choice for many years in construction and renovation projects. It's an effective method for creating smooth surfaces without needing to use harsh chemicals or other abrasive materials that may damage the surrounding area or environment. Moving forward, let's discuss what types of blasting services are available for concrete projects.
Types Of Blasting Services For Concrete
Sandblasting concrete is like a paintbrush for your walls: it takes precise skill and careful attention to detail. When you want to achieve flawless results, Tampa Sandblasting Pros are here to help. We offer a variety of blasting services for concrete that can get the job done quickly and efficiently:
1) Dustless Blasting – This is a blast method that uses just water and abrasive media to remove paint, dirt, mold, and other debris from surfaces without creating dust or residue.
2) Soda Blasting – This type of blasting uses baking soda as the abrasive media, which is safe for use on concrete and other delicate surfaces.
3) Abrasive Blasting – This method uses coarse granules such as steel shot or sand to strip away layers of material from surfaces.
No matter what type of blasting service you need, our team is trained in all facets of concrete surface preparation and can get the job done right. Plus, we are 100% mobile, so we are able to come directly to your site with all the necessary equipment!
We Are 100% Mobile!
At Tampa Sandblasting Pros, we offer our clients the convenience of a truly mobile blasting service. Like a chameleon, we seamlessly blend into any environment to bring you quality concrete blasting services – wherever you need them!
Our state-of-the-art mobile units are equipped with all the necessary tools and personnel to deliver the highest caliber of sandblasting services. With our 100% mobility, we can easily reach even the most remote locations. This ensures that your job is performed without delay, regardless of your location. Not only does this guarantee an efficient turn-around time but it also means that you don't have to worry about bringing your project to us – we come to you!
We understand that pre-blast preparation is essential for successful concrete blasting. That's why when you choose us for your next project, you can be sure that we'll take the time to inspect and assess your surface thoroughly before beginning work. This guarantees optimal results and long-lasting reliability from our work.
Pre-Blast Preparation Of The Concrete Surface
It is easy to underestimate the importance of pre-blast preparation of a concrete surface. After all, why take the time to prepare when sandblasting will do the job anyway? Taking the extra steps to properly prepare the concrete can make a huge difference in your final results, however.
By carefully preparing the surface before blasting it, you can ensure that your sandblasting project goes as smoothly as possible and yields exceptional results. First, any loose debris should be cleared away from the area being blasted. Then it is important to seal off any cracks or other imperfections in order to protect them from further damage during the blasting process. Finally, it's important to use appropriate masks and protective gear while sandblasting so that you don't inhale any hazardous particles or debris.
Taking these necessary precautions will help ensure that your concrete surface is ready for sandblasting, leading to a much better end result than if you had simply started without taking these extra steps. This also helps us guarantee our clients are happy with their final product, so they are sure to recommend our services in Tampa!
Contact us for more info!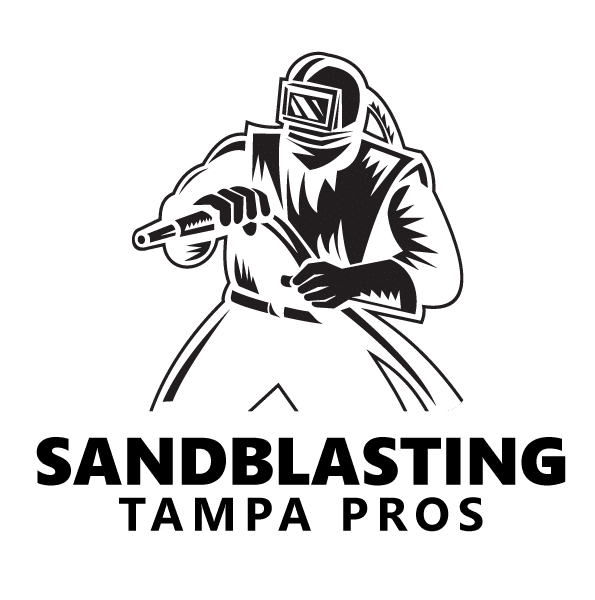 Ready to talk about your next project?